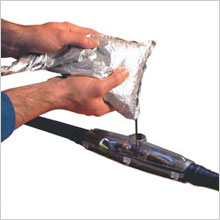 Bi-Pack Joints
SAFDAR SASSANI & CO is a leading manufacturer and supplier of a full range of power network systems and parts. This range includes a variety of cable jointing systems and resins.
The low voltage resin joint range allows straight, mains branch, and service branch connection of armoured and unarmoured cables. Low voltage polyurethane resin packs are available in a number of different sizes, to enable users to select their own joint box designs.
Bi-Pack straight joints, provides mechanical protection and resistance to moisture ingress and their installation is very easy and needs very short time.
RESIN KITS
Polyurethane encapsulating resin systems are offered in two part mixes. The two parts include the polul and the hardener components in laminated foil pouches. The two parts after being mixed (as per given instructions) in the pouches, will set in 20 to 60 minutes, depending on the ambient temperature. The unmixed ingredients have a shelf life of 12 months.
These joints are supplied without connectors for convenience. Therefore the compression connectors which, suit the best, has to be selected separately. Also armoured bonds have to be ordered separately.
In order to increase the mechanical resistance of the cover moulds, we have decided to manufacture them from ABC. But if PVC transparent moulds are desired, same can be supplied as well