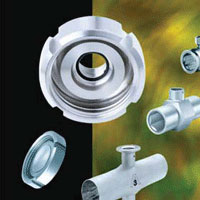 Catalogue
Chemical Seals & Accessories
Very wide choice of materials and coatings:
Stainless steel, Monel 400, Hastelloy, Uranus, Tantalum, Titanium
Can be mounted on to with pressure gauges, pressure transmitters and pressure switches
Measuring ranges: -1 … 0 bar (-30Hg … 0 psi) to 0 … 1000 bar (0 … 14500 psi)
Fluid Temperature: -60°C … 400°C (-76°F … 752°F)

Mounting on DIN, ISO or ANSI flanges

Hygienic applications:
3A certification, compliant with FDA and EHEDG directives
Chemical seChemical sealsals
D040, D041 series
Compact chemical seals with threaded connection
• D05x, 1060 and 1080 series
Single-unit screw-in chemical seals with flush diaphragm, monoblock
design
• D100, D200, D300 and 1030 series
Diaphragm chemical seals with threaded connection
• DAxx, 1010 and 1100 series
Diaphragm chemical seals for hygienic applications with DIN, SMS,
CLAMP, VARIVENT® connections,…
Versions with 3A certification
• 1005 series: for homogenizers
• 1500/1510 series: Tongue separator
• 1520/1530/1540, 1600 series
Pipe separator, 1620 series with 3A certification
• D400, D600 and D800 series
Diaphragm chemical seals with flange, nozzle or cell design
• D900 series
Diaphragm chemical seal for mounting on pressure and differential
pressure transmitters via capillary, fluid temperature range
between -40 and 400°C.
Measuring ranges between 25 mbar and 100 bar.
Accessories
• Pressure limiters
• Round securing flanges and flanges for temperature sensors
• Dome cocks and needle valves
• 2, 3 or 5 way manifolds
• Dampening connections, siphons, capillaries, nuts and nozzles
• Thermowells : welded, bored or flanged for temperature instruments.
Accessories for hygienic applications
• CombiConnect
System of 3A-certified interchangeable hydraulic connections for
mounting different types of measuring transducers (e.g. FlexBar®,
CombiTemp®, ED701)
• InLinePipe
System for welding directly in an existing pipe, 3A-certified
Available in DN38/51/63.5/76.1 and 101.6 with one or
two DN38 connections