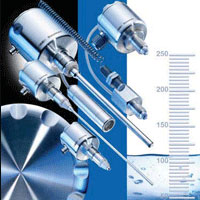 Catalogue
Level & Conductivity Sensors
We offer a range of options to suit specific application requirements:

• conductive

• capacitive

• hydrostatic pressure

• optical

• ultrasonic
From switching sensors to continuous level measurements.

Conductivity
Our conductivity meters are based on the transformer

principle and are used for the continuous monitoring of

product quality or safe detection of varying media

(e.g. for CIP systems).

• LSK series

Conductive limit switch, stub or rod electrode, 1 ,2 ,3 or 4 rod

electrode, optionally with PTFE coating, optional with built-in

switching module.

• LSM series

Limit switch (electromagnetic), hygienic connection, insensitive

against adhesion and foam, suitable for CIP/SIP processes.

• LSP series

Continuous level measurement, potentiometric principle, can be

used for media with a minimum conductivity of 1 μS/cm, measuring

ranges configurable via keys, suitable for CIP/SIP processes.

• ED752 series

Piezoresistive technology, with stainless steel diaphragm, for level

and depth measurement.

EEx ia version.

• CFAK series

Capacitive sensor as limit-value switch.

• CFAH series

Capacitive sensor for level monitoring in high-temperature

applications.

FFAM series

Optoelectrical sensor for level monitoring, pressure-resistant

up to 40 bar.

• UNAR series

Ultrasonic sensor with stainless steel casing for continuous

contact-free measurement also under aggressive conditions.

Conductivity

• ISL series
Inductive cond

ctivity measurement, measuring ranges

configurable, 0.5 … 999 mS/cm, integrated temperature

measurement -20 … 140 °C.