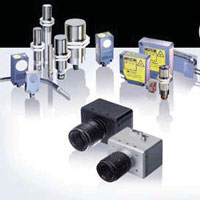 Catalogue
Special Products & Services
Test and calibration

Baumer Process Instrumentation has a

calibration laboratory in Switzerland with SCS

accreditation (No. SCS 034) for pressure,

temperature and relative humidity.

In addition we offer a wide range of test and

calibration devices , software and services.

DIN-Rail Module

• FlexConv

Analogue signal and pulse transducer with galvanic

isolation of input and output. Equipped with 2 relays,

configurable with PC.

I/I or I/U analog signal converter, supplied from

current loop

4 – 20 mA switching amplifier, relay or opto-relay

output with galvanic isolation

• IsoLoop: 4 – 20 mA isolation amplifier.

• Power supply, stabilised:

– 24 VDC/85 mA HART® capable

– 24 VDC/22 mA for pressure and temperature

transmitter

Further Baumer products

Further product solutions can be found in the

comprehensive Baumer factory automation

product range, e.g.

• Inductive sensors with all-metal case,

• Optical sensors based on optical fibre

for the harshest of environments,

• VeriSens® vision sensors in stainless steel

casing for checking completeness, presence

and position of objects,

• Shaft encoders and actuators in stainless

steel design,
• Leakage sensors for contact-free leak

detection.